Shopping Cart
Your Cart is Empty
There was an error with PayPal
Click here to try again
Thank you for your business!
You should be receiving an order confirmation from Paypal shortly.
Exit Shopping Cart
Your partners in healing...naturally
Audacious Health Readings..
| | |
| --- | --- |
| Posted on May 3, 2020 at 10:56 PM | |
Four Focuses in a Crisis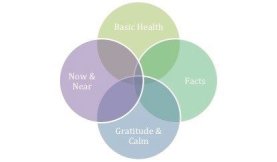 Here's some ideas on thriving in a crisis.  Let us know what's working for you…
1.    Focus on Gratitude and Calm
a.     Value staying calm (it may take a conscious effort) and promoting activities that support your calm and avoiding stimulus that disturb your calm where possible.

b.     During Crisis we sometimes consider what we have to lose:  Security, freedom of movement.

c.     The flipside to this is the appreciation of what we have.  Chinese Medicine philosophy tells us that every situation produces effects that are opposite to each other (Yin and Yang).  For example our current situation is producing impacts to the human population of earth and producing some significant positive benefits for the rest of nature as pollution is reduced.  Looking to the positive helps to balance our thinking – "Nothing is all Bad".
2.    Focus on Basic Health
a.     Each day
                   i.          Do some exercise that you enjoy
                   ii.         Eat foods that support your health
                   iii.        Access sunshine and fresh air where possible
                   iv.        Seek adequate rest and sleep
                   v.         Do something that helps you to feel good
                   vi.        Do Something that helps someone else
b.     If you are challenged in your health seek support.
3.    Focus on the Now and Near
a.     As much as we may have compassion for the whole world at this time of global change we have most influence with those in our immediate circle.  It's our family, neighbours and local community where we can have the greatest impact.
b.     There may be a requirement to plan and take action for the future at times.  Other than those times keep your thoughts in the present.  
c.     What are you feeling now?  
d.    What needs to be done now?
4.    Focus on Facts 
a.     There is often a lot of information available at a time of crisis.  A lot of that information is actually based on:
i.        Guesses (both professional  - like pandemic modelling and amateur – see Facebook)
ii.        Opinion – Everyone has a right to an opinion and some opinions        won't help you – see stay calm above.
b.     Challenge your thinking – is it based on current, verifiable facts?
c.     Keep your thinking based on facts you can actually verify (which is often very limited in the initial stages of a crisis).









Categories: Audacious Health, Covid Coping, Emotions, Fear
/