Shopping Cart
Your Cart is Empty
There was an error with PayPal
Click here to try again
Thank you for your business!
You should be receiving an order confirmation from Paypal shortly.
Exit Shopping Cart
Your partners in healing...naturally
Audacious Health Readings..
| | |
| --- | --- |
| Posted on January 20, 2021 at 1:57 AM | |
New Beginnings!
In an acupuncture clinic we often spend time with people who are experiencing new beginnings. 
Whether a new beginnings is
Something we chose for example a new diet plan to lose weight, a fitness plan to gain function or 
Something we didn't choose  for example the loss of a loved one, an injury or illness.
there is an art to navigating new beginnings.  We have gathered some tried and tested techniques to support new beginnings..
Allow Time - Change happens at it's own rate.  You can argue my logic on this one but whilst we have methods of supporting change we don't really have methods to accelerate it.  Prepare to be patient.
Allow Space - Change can only occur where there is space for change (sounds simple).  Creating space for change may include letting go of previous views of ourselves, allowing for change in your physical environment or your long held beliefs
Gather Support - New beginnings may require new resources and support.  Coaches, counsellors and acupuncturists are great resources to help with new beginnings.  Even if you don't need help it may just be more fun to share the journey.
Most of all be aware that new beginnings take energy and attention and some new beginnings can be quite challenging.  
We may not be competent in a new beginning straight away.  It may take time to learn new skills and how to apply them.  It may feel overwhelming (especially when a new beginning is not of our choosing).
Of course the pay off for navigating a new beginning is moving into ease with a new situation..
| | |
| --- | --- |
| Posted on July 6, 2020 at 6:20 AM | |
"How Great are you?"
I'm glad you asked
It's a vital question that's often passed
if we focus on transgressions and our failings
And all the lifely areas in which we may be ailing
How great are you.... I'll tell you straight
You're an "A" grade legend, mate
You stayed at home 
However tempted you were to roam
Traded trips to exotic shores 
for four walls
You ate weird things - you cooked from cans
You watched as circumstances changed our plans
Now you may think this poem ain't pretty,
I agree it may be sh.. oddy
But the sentiment is true
From our heart to you
You're great, you're great, you're very great!
| | |
| --- | --- |
| Posted on May 3, 2020 at 11:43 PM | |
| | |
| --- | --- |
| Posted on May 3, 2020 at 10:56 PM | |
Four Focuses in a Crisis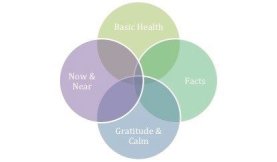 Here's some ideas on thriving in a crisis.  Let us know what's working for you…
1.    Focus on Gratitude and Calm
a.     Value staying calm (it may take a conscious effort) and promoting activities that support your calm and avoiding stimulus that disturb your calm where possible.

b.     During Crisis we sometimes consider what we have to lose:  Security, freedom of movement.

c.     The flipside to this is the appreciation of what we have.  Chinese Medicine philosophy tells us that every situation produces effects that are opposite to each other (Yin and Yang).  For example our current situation is producing impacts to the human population of earth and producing some significant positive benefits for the rest of nature as pollution is reduced.  Looking to the positive helps to balance our thinking – "Nothing is all Bad".
2.    Focus on Basic Health
a.     Each day
                   i.          Do some exercise that you enjoy
                   ii.         Eat foods that support your health
                   iii.        Access sunshine and fresh air where possible
                   iv.        Seek adequate rest and sleep
                   v.         Do something that helps you to feel good
                   vi.        Do Something that helps someone else
b.     If you are challenged in your health seek support.
3.    Focus on the Now and Near
a.     As much as we may have compassion for the whole world at this time of global change we have most influence with those in our immediate circle.  It's our family, neighbours and local community where we can have the greatest impact.
b.     There may be a requirement to plan and take action for the future at times.  Other than those times keep your thoughts in the present.  
c.     What are you feeling now?  
d.    What needs to be done now?
4.    Focus on Facts 
a.     There is often a lot of information available at a time of crisis.  A lot of that information is actually based on:
i.        Guesses (both professional  - like pandemic modelling and amateur – see Facebook)
ii.        Opinion – Everyone has a right to an opinion and some opinions        won't help you – see stay calm above.
b.     Challenge your thinking – is it based on current, verifiable facts?
c.     Keep your thinking based on facts you can actually verify (which is often very limited in the initial stages of a crisis).









/