Shopping Cart
Your Cart is Empty
There was an error with PayPal
Click here to try again
Thank you for your business!
You should be receiving an order confirmation from Paypal shortly.
Exit Shopping Cart
Your partners in healing...naturally
Audacious Health Readings..
| | |
| --- | --- |
| Posted on May 3, 2020 at 10:56 PM | |
Four Focuses in a Crisis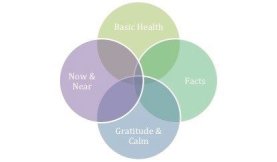 Here's some ideas on thriving in a crisis.  Let us know what's working for you…
1.    Focus on Gratitude and Calm
a.     Value staying calm (it may take a conscious effort) and promoting activities that support your calm and avoiding stimulus that disturb your calm where possible.

b.     During Crisis we sometimes consider what we have to lose:  Security, freedom of movement.

c.     The flipside to this is the appreciation of what we have.  Chinese Medicine philosophy tells us that every situation produces effects that are opposite to each other (Yin and Yang).  For example our current situation is producing impacts to the human population of earth and producing some significant positive benefits for the rest of nature as pollution is reduced.  Looking to the positive helps to balance our thinking – "Nothing is all Bad".
2.    Focus on Basic Health
a.     Each day
                   i.          Do some exercise that you enjoy
                   ii.         Eat foods that support your health
                   iii.        Access sunshine and fresh air where possible
                   iv.        Seek adequate rest and sleep
                   v.         Do something that helps you to feel good
                   vi.        Do Something that helps someone else
b.     If you are challenged in your health seek support.
3.    Focus on the Now and Near
a.     As much as we may have compassion for the whole world at this time of global change we have most influence with those in our immediate circle.  It's our family, neighbours and local community where we can have the greatest impact.
b.     There may be a requirement to plan and take action for the future at times.  Other than those times keep your thoughts in the present.  
c.     What are you feeling now?  
d.    What needs to be done now?
4.    Focus on Facts 
a.     There is often a lot of information available at a time of crisis.  A lot of that information is actually based on:
i.        Guesses (both professional  - like pandemic modelling and amateur – see Facebook)
ii.        Opinion – Everyone has a right to an opinion and some opinions        won't help you – see stay calm above.
b.     Challenge your thinking – is it based on current, verifiable facts?
c.     Keep your thinking based on facts you can actually verify (which is often very limited in the initial stages of a crisis).









| | |
| --- | --- |
| Posted on May 1, 2019 at 3:08 AM | |
We all would like to have less stress in our lives.  It is good to stop and reflect on how our lives would improve if we had less stress.  Make a list of the reasons for wanting less stress.  This list will be what motivates us to actually implement some changes and take action to reduce stress and to cope better with it.  
For example, when I have less stress, I will have more energy.  With more energy, I will:-
* spend more time playing with the kids
* improve efficiencies at work
* get tasks completed around the house
* enjoy sport on the weekend more...
and the list goes on...
Or, as another example, when I have less stress, I improve my overall health and wellbeing.  With improved health, I will:-
* improve my menstrual cycle for getting pregnant
* reduce my brain fog and improve my clarity of thinking and focus
* be more excited about life and take time to stay connected...
and the list goes on...
The following tips are some of our strategies for managing stress:-
* Don't try to be perfect.  Let go of perfectionism.  Allow yourself to implement the '80:20' rule.  Nobody is perfect.  So ease up on yourself and ease up on your criticism of others.
* Recognise what stresses you.  Stress is an individual thing.  What you find stressful might not be considered as stressful for your partner or others.  Can the cause of the stress be eliminated, modified or reduced by taking some action or having a change of response or change in attitude?  If it is something you can't change, try not to let it stress you and let it go.
* Chose to have fun.  Do things that make you laugh and doesn't cause harm to others.  Ease up on being too competitive.  Be the first to be friendly.  And the first to forgive.  Choose your battles wisely.  Choose happiness.  Focus on what you want.
* Manage your schedule.  Can you tweak your schedule to improve things and reduce stress?  Are you trying to do too many things at the same time?  Is your task loading realistic? Do the essential tasks and prioritise the others.  Are you putting off things that could simply be done now.  Consider who is affected by your decisions.  Find a technique, tool or app that works for you in managing your to do list and appointments.
* Eat a balanced diet.  Consider increasing vegetables and fruits and reducing sugar, fats and gluten.  Keep hydrated.  Avoid foods the leave you feeling anxious and stressed.
* Maintain good health and fitness.  Do something relaxing on a daily basis.  Take time out to do something relaxing e.g. acupuncture, meditation, yoga, qi gong or massage.  We often have client tell us how relaxing they find acupuncture.  Get good sleep and enough rest - see our 7 Tips for Better Sleep blog. Do some exercise or movement each day as exercise is an effective way to manage stress and work off any anger you may have.  De-clutter your environment and keep it clean.  Minimise your exposure to toxins and maintain an environmentally friendly status.
* Take time out.  Whether a small break or a holiday, it all counts towards managing your health and coping better with stress.  Time out should also include "me time".  Ideally factor a little of that in each day.
* Maintain good relationships. Staying connected with friends and family who you can talk with about the good stuff as well as supporting each other in stressful times. Being involved in the community and helping others can be an effective and satisfying stress reducer.  And remember, good communication with your partners and others will help lower stress.
Looking at the above, I realise there are some things I let stress me when I could be choosing to have a better attitude and not let it stress me.  For example, I let bad drivers on the road stress me out.  I let them annoy and frustrate me.  Why?  Good question. I guess I am ultimately stressing that their bad driving will cause me to have an accident.  So, does getting stressed out in this situation help me?  No.  Am I focusing on what I want?  No.  So what is within my control?  I can choose to respond to bad drivers in a more positive way.  After all, although I am a good driver, I am not perfect.  I can have empathy for them and wish them safe travelling for the rest of their journey.  And I can let it go quickly and focus on what I want - a safe and carefree drive.
Remember, where possible:-
* eliminate the stress
* reduce the stress
* implement strategies you know help you cope better
* accept things you can't change and don't let them stress you.
Enjoy May everyone!
| | |
| --- | --- |
| Posted on July 9, 2018 at 4:44 AM | |
Do you plan to achieve big things?  Weight loss, learning a new skill, running a certain distance?
Often we make grand plans to achieve something in a year or longer and if we don't achieve that goal we can be discouraged.
Sometimes just looking at a year long goal can be disheartening.  Can I really walk 10KM when I haven't walked more that a short walk before?
One of our mentors recently suggest having a 12 week (or 90 day) plan.  A 90 day plan is a good start with managing your time and tasks in achieving your goals.  
Here's the process in 6 easy steps.
Start by looking at your big plan.  What do you want to achieve? (e.g. walk the Kokoda track) and write this down
What would you like to achieve in the next 90 days towards that goal?(e.g. Be able to walk 10 Kilometres at a time) and write this down
What will you achieve weekly by week?(e.g. Week 1 be able to walk 2 kilometres, week 2 walk e able to walk 3 kilometres etc) and write this down
What will you achieve each day? (e.g. Week 1, day 1 buy hiking shoes, week 1 day 2 walk 1 kilometre) and write this down
Each day refer to your daily plan and do what the plan says.  Some days you will - some days you won't.  Life happens.
Each 90 days look back with curious fascination to see how you have progressed.
90 days is a great period to break down goals to..
.
| | |
| --- | --- |
| Posted on June 9, 2016 at 6:50 AM | |
Fearless..  Traditional Chinese Medicine (TCM) provides interesting insights into emotions.  
A little background..
TCM identifies emotions as very real energies that have a place in the human body and are capable of causing a variety of physical and mental conditions when out of balance.
This might seem quite at odds with the Western science view of emotions but recent studies have shown that the brain doesn't have a monopoly on memory and emotions - other organs do have the capability to "remember" and "feel".  Interesting stuff...
Back to fearlessness.  TCM sees the kidney as the "home" of fear with the emotion of fear effecting the kidneys and challenges to the kidney energy tending us towards fear.
Looking after the kidneys may support us with processing the emotion of fear:
Protect your lower back from cold and chills (think sexy singlets through winter).
Avoid over exertion.
Be well nourished - soups (vegetable, beef, lamb) are great through winter.
Have adequate rest to allow kidney energy to regenerate.
Not too revolutionary I suppose to say that looking after ourselves can help support our mental and emotional health but sometimes the simple advice is the best..
/